Supporting Socio-Economic
Development for a Better Future
MAME YE Network Conference
---
Under the High Patronage of His Excellency
The President of the Republic of Lebanon
General Michel SLEIMAN

Welcome to
YEB 2011

Dear Friends,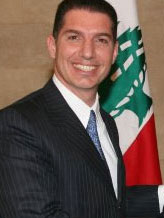 We are very pleased to announce that the First Arab International Forum for Young Entrepreneurs and Businesspersons, YEB 2011, is taking place, under the High Patronage of His Excellency the President of the Republic of Lebanon, General Michel SLEIMAN, and in the presence of HRH Prince Talal Bin Abdul Aziz Al Saud, in Lebanon, on September 30th and October 1st 2011, at the Phoenicia Hotel Beirut.
The Forum will witness the 4th MAME YE (Mediterranean, Africa & the Middle East Young Entrepreneurs) network meeting.
The TWO days forum will present a platform for Young Entrepreneurs and Businesspersons from all over Africa, Europe and the Middle East to meet upon the invitation of their Lebanese counterpart, L.I.B.A.N., which is the sole national and international association representing Leading Lebanese Young Entrepreneurs & Businesspersons in Lebanon and abroad.
This unique gathering is co-organized by UNIDO (United Nations Industrial Development Organization), the Federation of Chambers of Commerce, Industry and Agriculture in Lebanon and General Union of Chambers of Commerce, Industry and Agriculture in the Arab countries, with the active partnership of ESA (Ecole Supérieure des Affaires), and IDAL (Investment & Development Authority of Lebanon), Capital Business and CNN.
The forum aims to:
- open a channel of communication and networking among all participants from different sectors/countries,
- create B2B meetings,
- brainstorm among participants on contribution in socio-economic development and Corporate Social Responsibility,
- provide an exciting opportunity for all young entrepreneurs to be mentored,
- benefit from starting constructive debate with success stories,
- establish strong collaborations with the associations of young entrepreneurs in the target countries.
For more Details and Registration, please Click Here
Looking forward to welcome you in Beirut,
President Robert Jreissati
L.I.B.A.N. - The Lebanese International Businessmen Associations' Network
---
Sponsors